Mica Todorović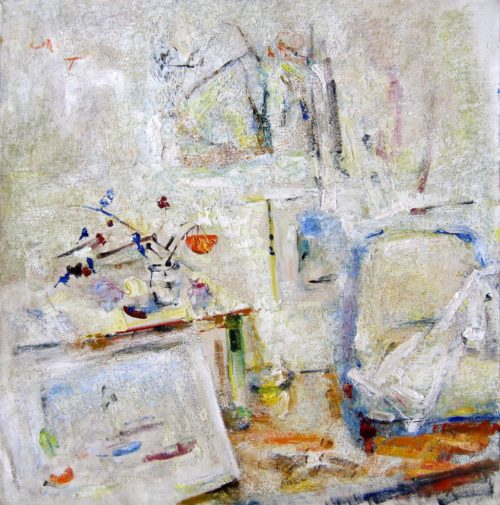 They called her "the first lady of Bosnian and Herzegovinian painting".
She studied art in Zagreb as the only woman in class, under the mentorship of prof. Ljubo Babić.
After her graduation, she traveles to Italy, where she is fascinated by the art of the Florentine early Renaissance – strictness, linearity and the closed form of the early masters become her role models. On the portraits created upon her return to Zagreb, the form is visibly closed by a precise line that sharply delimits the figure from the background. Earth tones dominate the paintings, which she masterfully revives using delicate accents of bright colors (red, blue, yellow, white).
In 1932 she returns to Sarajevo and joines her colleagues, advanced artists oriented towards the Communist Party of Yugoslavia, within the active cultural life. From 1937, Mica Todorovic primarily turns to painting. Color acquires primacy over all other visual elements. It is obvious that she is a born colourist with a strong sense of harmony, who is also prone to take on bold and unexpected colourist procedures. The applied colors range from pasty, almost relief like ones to completely translucent (transparent), airy ones like watercolors.
After World War II, which she spent in captivity in Germany, the human figures disappear entirely from her paintings; she turns to objects, not as a concrete forms in space, but more to the emotion that these objects awaken within her. The entire body of work of the sixth decade, and later, exudes with serenity and enjoyment within small everyday things. She paints cafes, flowers, gardens, fruit, interiors… Finally she has reached the peak of her creative power and she can paint whatever and however she wants. In 1959 she paints "Venice", a shimmering, dazzling, white painting, which serves as an introduction to the "white phase".
In 1962 she travels to Paris, which represents the beginning of a very important phase, which lasted until her death. She brought oil pastels and an album filled with sketches back from Paris. Oil pastel began to penetrate into the painting, which in combination with oil became her preferred technique. The first combination was realized with pastel on canvas with a minor addition of oil, but later the situation reversed and she accentuated her oil paintings using pastel.
The collection of Mica Todorovic's works is exceptionally big (300 paintings and over 100 drawings) and it represents a refined chronicle of her memories, full of color, serenity and beauty.
Mica Todorovic is most closely related to the development of the BiH art: she worked closely with the association "Collegium Artisticum" (1939-1941), she is one of the ten founding members of the Association of Visual Artists of Bosnia and Herzegovina (ULUBiH) and one of the first professors at the newly founded School of Applied Arts in Sarajevo. She was also a member of the Academy of Sciences and Arts of BiH. She received the most important awards and acknowledgements.